Event Quests are available in Chaldea Gate during the event. Collect different chocolates to trade for limited Craft Essences and more!
This event is the extended version of Valentine 2016 Event.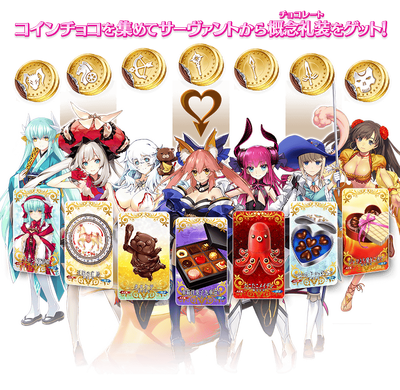 Unlike the original event, Male Servants will also have their own version of Chocolate Craft Essences (Return Gift).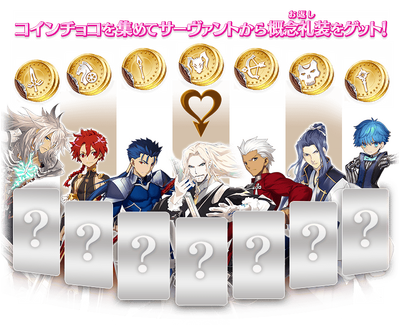 Rare Prism Shop Update
Melty Sweetheart will be available in the Rare Prism Shop once the update is live.
Craft Essences
(Shop)
★ ★ ★ ★ ★
Melty Sweetheart


ATK: 0/0
HP: 750/3000


+100% defense against Male enemies (3 attacks).
Critical star generation +10%.
+2 Class Choco Coin drops of all Classes
| Item | Trade Limit | Individual Cost | Total Cost |
| --- | --- | --- | --- |
| | 5 | 5 | 25 |
Storage Expansion Update
Only available for Second Archive.
New Maximum number of slots for Second Archive will be increase to 200.
50x = 5 Slots
Total Needed to expand both Servant and CE Second Archive to the new maximum = 2000
Part I
Using Class Choco Mold will increase the chances of the same class of enemy to appear. The Class Choco Molds are consumables that can be used before entering a quest.
Eg : will increase the chances of Saber-classed Enemies to appear.






Part II
Use Fondant au Chocolat and Sweet Crystal to get +2 Drop Bonus of all types of Choco Coin.
Use Chocolate CEs or Return Gift CEs to get +2 Drop Bonus of the Choco Coin of the related Servant's Class.
Part III
Use CEs from Gacha to get +5 / +3 / +1 Drop Bonus of equipper's Anti-Class.
Part IV
Craft Essences
(Rare Prism Shop)
★ ★ ★ ★ ★
Melty Sweetheart


ATK: 0/0
HP: 750/3000


+100% defense against Male enemies (3 attacks).
Critical star generation +10%.
+2 Class Choco Coin drops of all Classes
Valentine 2016 CE
(Summoning)
★ ★ ★ ★ ★
Street Choco-Maid


ATK: 250/1000
HP: 400/1600


Arts card performance +10%.
Quick card performance +10%.
Healing received +20%.
+5 Class Choco Coin of Equipper's Class

★ ★ ★ ★
Kitchen ☆ Patissiere


ATK: 200/750
HP: 320/1200


Critical star generation +15%.
NP generation +15%.
+3 Class Choco Coin of Equipper's Class

★ ★ ★
Valentine Dojo of Tears


ATK: 200/1000
HP: 00/00


Sure-hit
Generate 3% NP each turn.
Debuff resistance -10%.
+1 Class Choco Coin of Equipper's Class
Craft Essences
(Shop)
★ ★ ★ ★ ★
Fondant au Chocolat


ATK: 500/2000
HP: 0/0


Increase 25% Demage Against Divinity Traits.
Unit starts battle with 30% of the NP gauge filled
+2 Class Choco Coin drops of all Classes

★ ★ ★ ★ ★
Sweet Crystal


ATK: 500/2000
HP: 0/0


Pierce Invincibility
Unit starts battle with 30% of the NP gauge filled

+2 Class Choco Coin drops of all Classes
Valentine 2017 CE
(Female)
★ ★ ★ ★ ★
Cute Orangette


ATK: 500/2000
HP: 0/0


NP generation +25%.
Increases unit's NP damage by 15%.
+5 Class Choco Coin of Equipper's Anti-Class

★ ★ ★ ★
Choco Angel


ATK: 400/1500
HP: 00/00


Increase own Buster performance by 8%.
Increases unit's NP generation rate by 15%.
+3 Class Choco Coin of Equipper's Anti-Class

★ ★ ★
Blessful Time


ATK: 200/1000
HP: 00/00


Healing effective +5%.
Increases unit's Star generation rate by 5%.
+1 Class Choco Coin of Equipper's Anti-Class
Valentine 2017 CE
(Male)
★ ★ ★ ★ ★
Chocolatier


ATK: 250/1000
HP: 400/1600


Increases damage of unit's Arts cards by 15%.
Gain 3 critical stars each turn.
+5 Class Choco Coin of Equipper's Anti-Class

★ ★ ★ ★
Bitter Black


ATK: 200/750
HP: 320/1200


Healing received +15%.
Increases unit's NP generation rate by 15%.
+3 Class Choco Coin of Equipper's Anti-Class

★ ★ ★
Victor's Complacency


ATK: 00/00
HP: 300/1500


Damage cut 100.
Increases unit's Star generation rate by 5%.
+1 Class Choco Coin of Equipper's Anti-Class