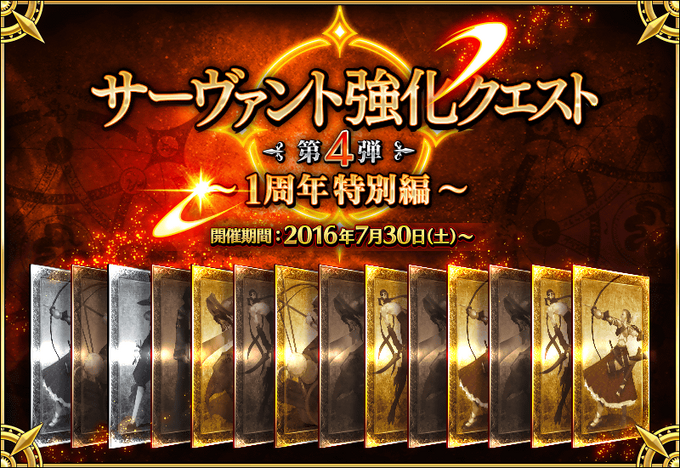 Duration: July 30, 2016 00:00 ~ (JST)
In conjunction with FGO Summer Festival 2016 ~1st Anniversary~, there will be 14 servants instead of 7.
2 special quest will appear daily for a total of 7 days. (July 30-August 05)

Quest will only open in Chaldea Gate if you have the Servant with Max Ascension.
Identity of the Servant for that particular quest will only be revealed on the same day the quest appears.
Quests do not expire.
| Date of Quest Appearance | Servant Class | Rarity | Servant |
| --- | --- | --- | --- |
| July 30, 2016 00:00 JST | | 3★ | Robin Hood |
| July 30, 2016 00:00 JST | | 2★ | Edward Teach |
| July 31, 2016 00:00 JST | | 3★ | Romulus |
| July 31, 2016 00:00 JST | | 1★ | Wolfgang Amadeus Mozart |
| August 01, 2016 00:00 JST | | 4★ | Lancelot |
| August 01, 2016 00:00 JST | | 1★ | Mata Hari |
| August 02, 2016 00:00 JST | | 4★ | Saint Martha |
| August 02, 2016 00:00 JST | | 2★ | Caligula |
| August 03, 2016 00:00 JST | | 4★ | Carmilla |
| August 03, 2016 00:00 JST | | 1★ | Spartacus |
| August 04, 2016 00:00 JST | | 4★ | Atalanta |
| August 04, 2016 00:00 JST | | 2★ | Eric Bloodaxe |
| August 05, 2016 00:00 JST | | 4★ | Stheno |
| August 05, 2016 00:00 JST | | 4★ | EMIYA |