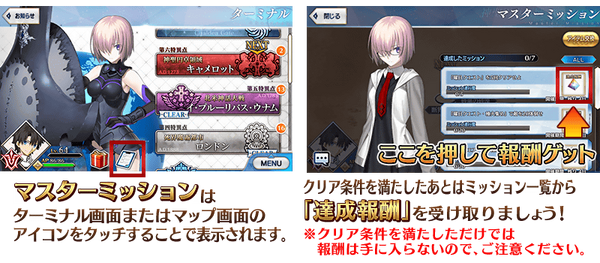 Master Missions
can be accessed through a "checklist" icon next to the
Gift Box
icon. Similar to the mechanics of the Missions System in
Kara no Kyoukai Collaboration Event
,
Fate/Accel Zero Order Event
and
Ibaraki Douji Event
in the past, the Master Missions System allows you to take on a few tasks to be completed for a "
handsome
" reward.(2
doesn't really move the needle.)
The only difference in this system is that it is not event-limited. It behaves as a Weekly Task System, where you have a certain time-limit to complete a few tasks before it resets on the next week. The tasks range from completing certain Daily Quests (eg: Ember Gathering or Training Field) to killing a certain type of enemy a few times (eg: Automata).
Some Missions requires the player to defeat a certain servant with a certain Alignment or Trait. Visit the Alignments page or Trait page for help.

06/26 ~ 07/02
---