Details about the FGO Summer Festival 2016 ~1st Anniversary~ will be announced soon.

1st Anniversary NICONICO Stream
Time :July 29, 2016 20:00 JST
Stream Title : Fate/Grand Order Chaldean Broadcast Vol.03 ~F/GO 1st Anniversary Eve~
Guests :
Kawasumi Ayako
Shimazaki Nobunaga
Taneda Risa
Link to Retweet Event Page : http://cp.fate-go.jp/fate/1st/
Link to Stream : http://live.nicovideo.jp/watch/lv269481143
Details about the 1st Anniversary Event will be announced in the stream itself.
For the Retweet-Event, there are total of 3 presents. (Just like previous Retweet events, you need to reach a certain milestone to get certain rewards.

FGO Summer Festival 2016 in Akihabara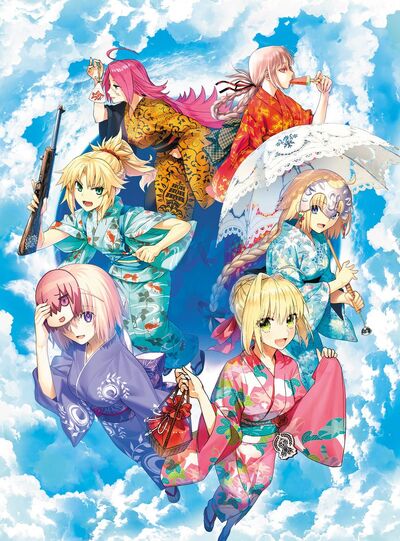 Venue : Akihabara UDX2F Akiba Square (Chiyoda-ku, Tokyo Sotokanda 4-14-1 4-14-1)
Time : July 30, 2016 10:00 ~ 19:30 JST (Last Admission at 18:30 JST)
Cost of Entry: FOC
Transportation Method:
JR [Akihabara Station] - 2-minute walk from the Electric Town Entrance
Tokyo Metro Ginza Line [Suehiro-cho Station] - 3-minute walk from Exit 1
Tokyo Metro Hibiya Line [Akihabara Station] - 4-minute walk from Exit 3
Tsukuba Express [Akihabara Station] - 3-minute walk from Exit A1
More Details :
http://news.fate-go.jp/2016/aeudmb/
http://www.fate-go.jp/1st/

The Rest of the Details For The Event Will Not Be Stated Here Due To The Fact That The Mastery in Japanese is Needed When You Attend The Event

Stamp Rally [Akiba Ley Shift]

Duration: July, 29 2016 ~ August 7, 2016

All attendees will be given a Master License Card, as shown in the image above.
For more details, please visit the official page.

[Fate/Grand Order] 1st Anniversary Book

Cost : 500 Yen (Not Including Tax)
Specification : Full Colour / 32 Pages/A4 Size(235×297mm)
Handling Retailers :
Animate Akihabara
Animate AKIBA Culture's ZONE
AKIHABARA Gamers HQ
Shoizumi Book Tower
Note :
One person can only buy maximum number of 2 books.
There is only a limited number of stock.