Broadcast Title : Fate/Grand Order Chaldean Broadcaster Vol.4 Order VII Pre-Release Special
Broadcast Date : December 6, 2016 20:30 ~ JST
Link to the Livestream : http://live.nicovideo.jp/watch/lv283404563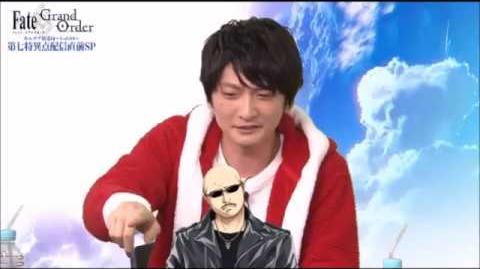 Casts :
Ōkubo Rumi (Voice Actor)
Kawasumi Ayako (Voice Actor)
Shimazaki Nobunaga (Voice Actor, MC)
Takahashi Rie (Voice Actor)
Anjo (F/GO Development Staff)
Kawamura Hiroyuki (F/GO Publicity Staff)
Schedule :
20:30 ~

Showcase of all TVCM until Camelot's TVCM
Showcase of the Noble Phantasms of the latest Servants
---
Link To Santa Alter-san's Campaign : http://cp.fate-go.jp/fate/santa/
Ad blocker interference detected!
Wikia is a free-to-use site that makes money from advertising. We have a modified experience for viewers using ad blockers

Wikia is not accessible if you've made further modifications. Remove the custom ad blocker rule(s) and the page will load as expected.