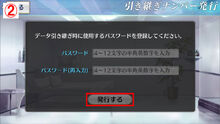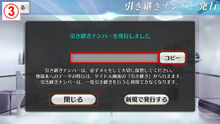 Device Transfer allows you to save game progress and move the account to another device. A transfer code can be issued from My Room.
Tap Device Transfer (引き継ぎナンバー発行) in the My Room menu.
Type in a password to be used when transferring to another device (the second field is for confirmation, so type it in both fields). The password must be 4-12 alphanumeric characters.
A transfer code will be issued, use Copy (コピー) button to copy it into clipboard, click Close (閉じる) button then (the right button, 新規で発行する, is for issuing a new code). The code can either be immediately used to transfer the account to another device or saved for future use.
To use the transfer code, access the game on a new device or new installation of Fate/Grand Order. On the title screen, click the Device Transfer button on the bottom-left (引き継ぎ). Input your transfer code and your password to load your account on the new device or installation.
There is no expiration date for the transfer code. Each code can be used once; after using your transfer code, you will have to create a new code and password to transfer again. However, you can always create a new code with a new password even if you already have an existing code (for example, if you forget the password).